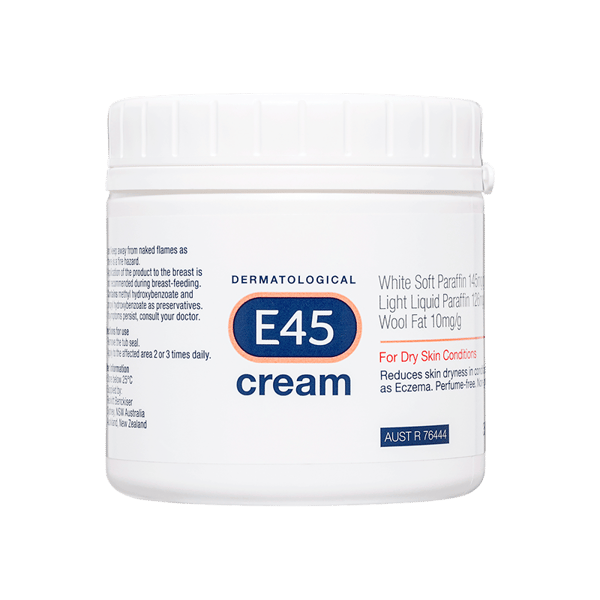 E45 Cream
An intensely hydrating, dermatologically tested emollient that brings relief to a wide range of dry skin conditions.
50g, 125g, 350g, 500g (tub / pump)
Product Features
Reduces skin dryness in conditions such as eczema and dermatitis
Brings relief to a wide range of dry skin conditions including, flaking, chapped skin, nappy soreness, minor sunburn and detergent hands
Helps soften rough, hard skin
E45 Cream gets to work instantly to help repair dry skin
Creates a protective moisture barrier
Non greasy emollient, quickly and easily absorbed
Product Description
Dermatological E45 Cream is an intensely hydrating, triple active moisturiser with medical grade ingredients. It contains liquid paraffin, white soft paraffin and wool fat. These ingredients have emollient moisturising properties that help soften the skin and occlusive properties that provide a protective layer on the skin to prevent water evaporating from the skin and irritants from entering. The E45 cream contains Medilan, a medical grade, highly purified, hypoallergenic form of lanolin. It is perfume free and non greasy. Suitable for the whole family including babies and children.